A few years ago, it was quite hard to finding a bubble tea place and we often had to settle for something subpar. With bubble tea becoming so popular among Montrealers, we are seeing many new places opening. Being a bubble tea fan myself, I have decided to share with you my ultimate favorite bubble tea spots in Montréal.
1. Presotea – 10 rue de la Gauchetière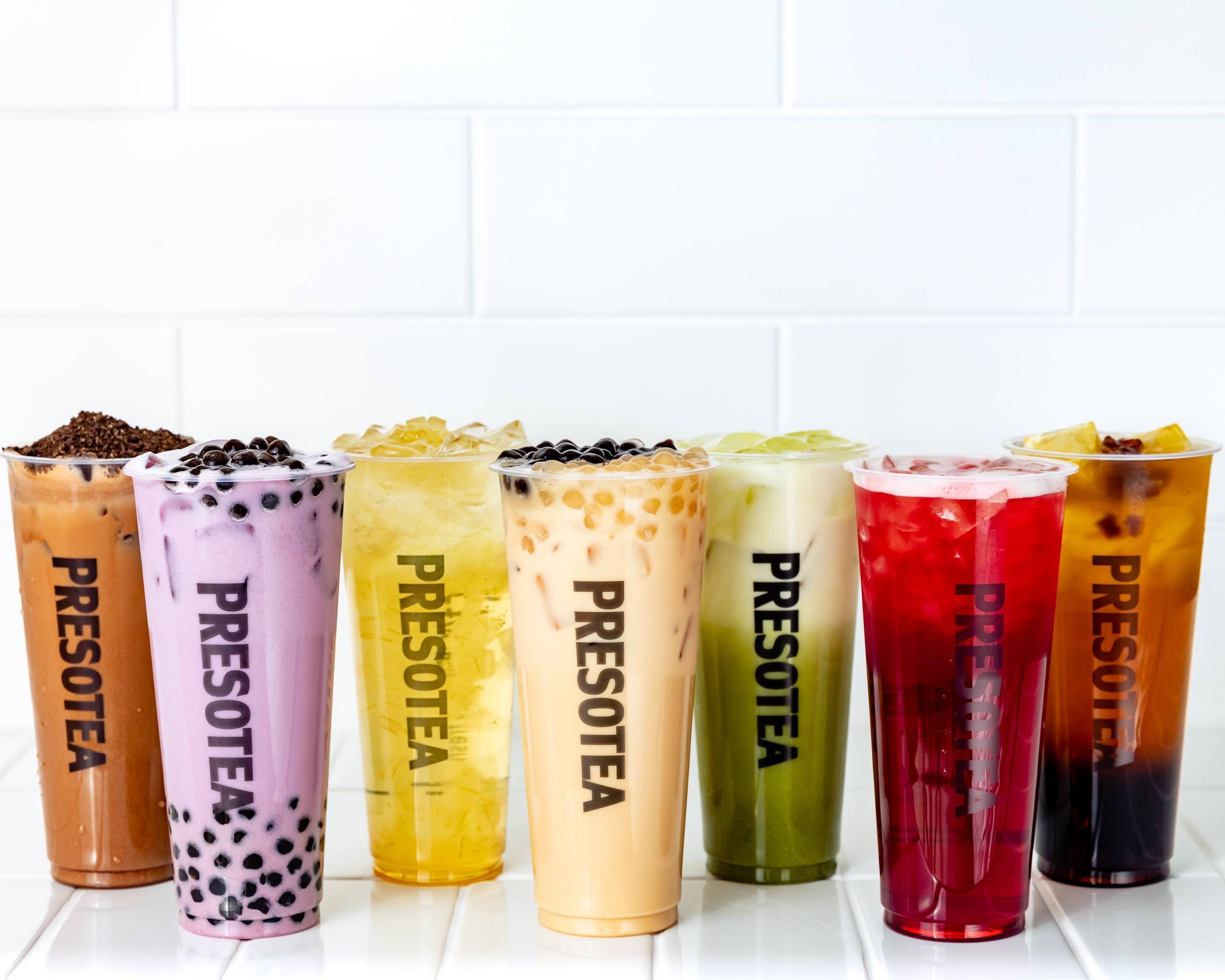 Credit: Presotea
Presotea is unique because they have created their own tea brewing technology. They use high-temperature and high-pressure machine (kind of like an espresso machine) to extract the wonderful flavour of the tea. If you don't feel like having bubble tea, try one of their fresh mango smoothies – so good and so refreshing. My favourite bubble tea here is their Panda Milk Tea made with two coloured bubbles. You can also find Presotea locations across Canada: in Ontario, Alberta, British Colombia and of course Québec.
2. Maison O Thé – 625 boul. Décarie
Maison O Thé offers bubble tea flavours that stand out. They have a variety of different bases to choose from, like the yakuruto, the premium milk tea or the matcha Uji. When you order, you can pick the sweetness level and your topping: the classic tapioca, grass jelly, lychee jelly or mango jelly. When I go, I usually alternate between three: O Tears (matcha salty caramel), Yunlin grapefruit (yakuruto and grapefruit) and the Okinawana black milk tea. But really, it doesn't matter which one you order, they're all good.
3. L2 – 71A rue de la Gauchetière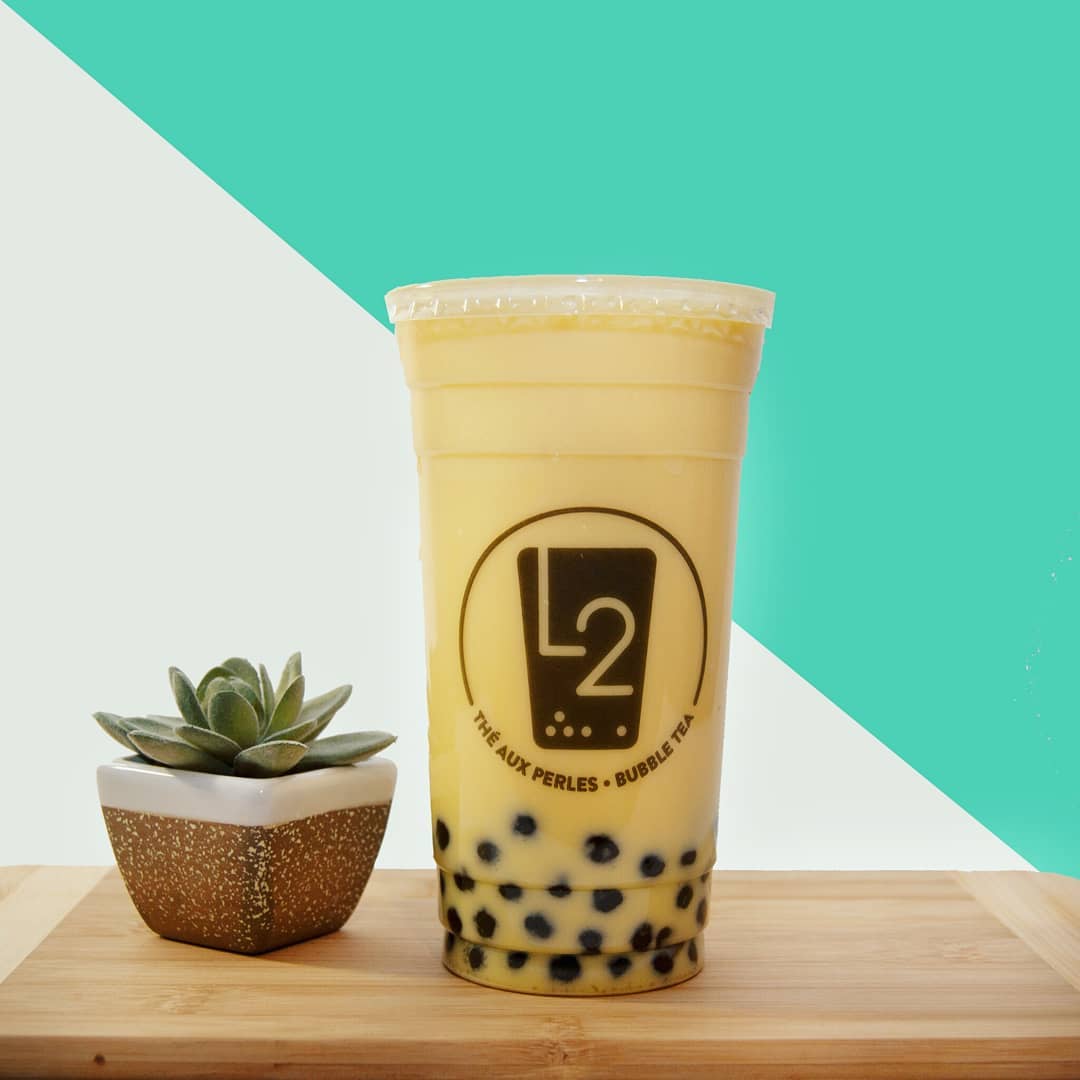 Credit: L2
A Montréal classic that has been around for quite a long time – they first opened in Montréal's Chinatown in 2003. Since then, they have opened different locations around the city like in CF Carrefour Laval. You can choose from their legendary menu (their top flavours and combinations) or build your own bubble tea drink step-by-step. If you want it caffeine free, you have a milk bubble tea option or a fresh fruit smoothie. If you want to try a fresh fruit smoothie, I recommend honeydew.
4. One More Tea – 1455 rue Peel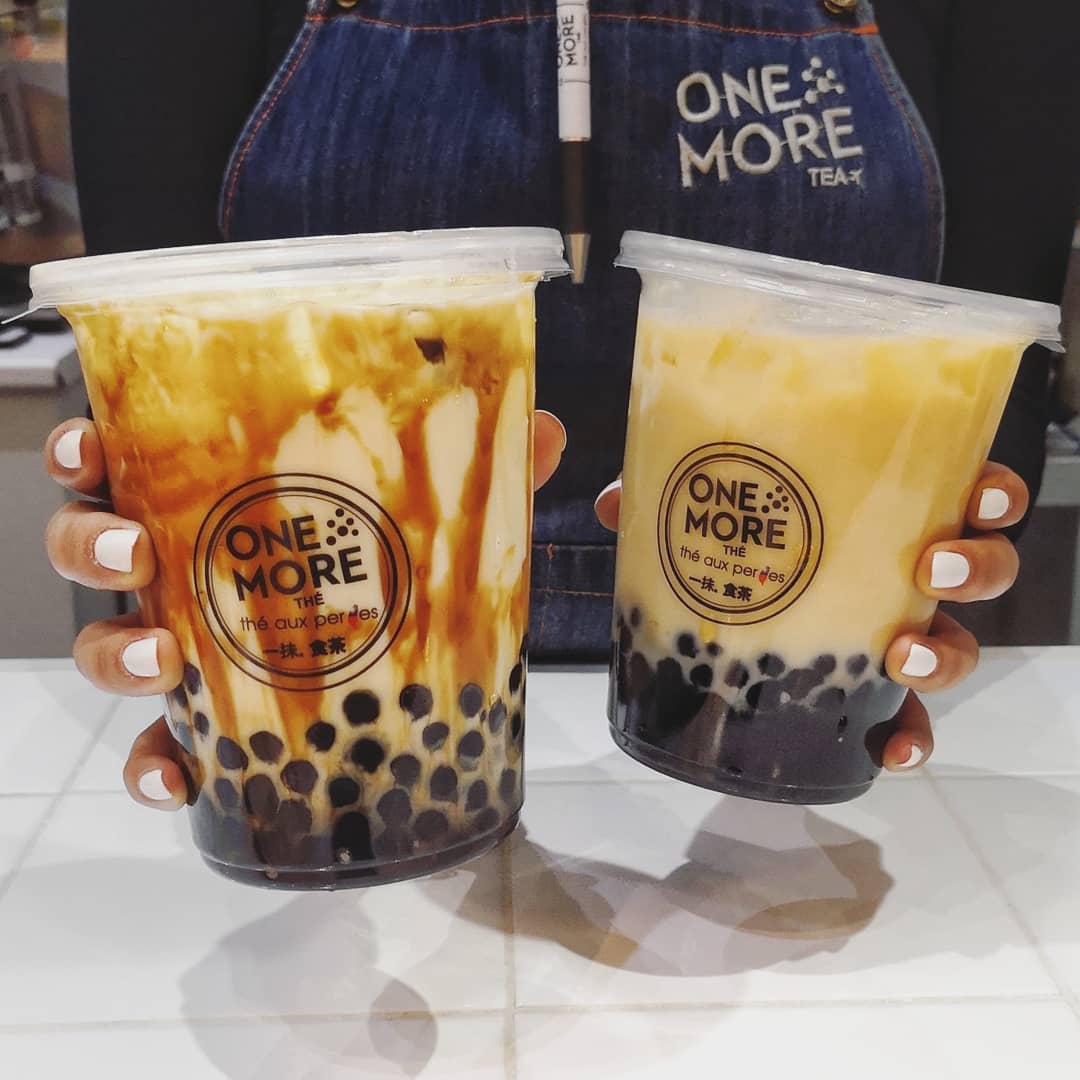 Credit: One More Tea
One More Tea is always looking to create new bubble tea combinations. If you order from their "Teas of the world" section, you'll find flavours like Thai Butterfly Pea Blue Tea or Honey Lemon Jasmine Jelly. They also have different symbols beside each flavour to tell you if its vegan. They currently have two locations, one downtown and another beside Snowdon metro station.
5. NosThés Bistro Montréal – 1609 rue Sainte-Catherine O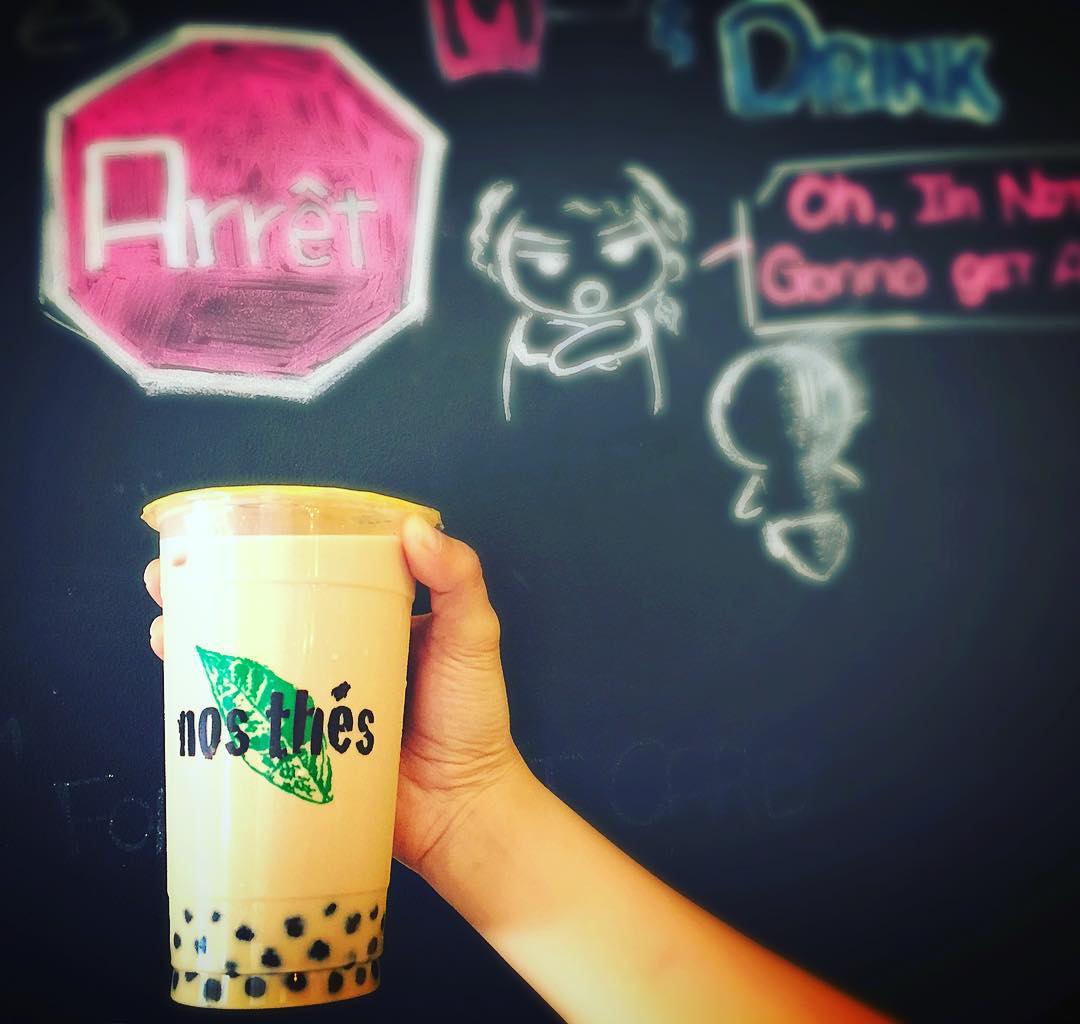 Credit: NosThés
NosThés Bistro sells a variety of exotic tea beverages and authentic Taiwanese cuisine. Make sure to try their signature pearl tea (also known as the tea that made them popular). They also have a list of decaf beverages you can choose from if you don't want to be up all night. The list includes iced chocolate, caramel milk, winter melon milk, and more. The next time I go, I'm definitely trying the Honeybush Strawberry Melon Creamy milk tea.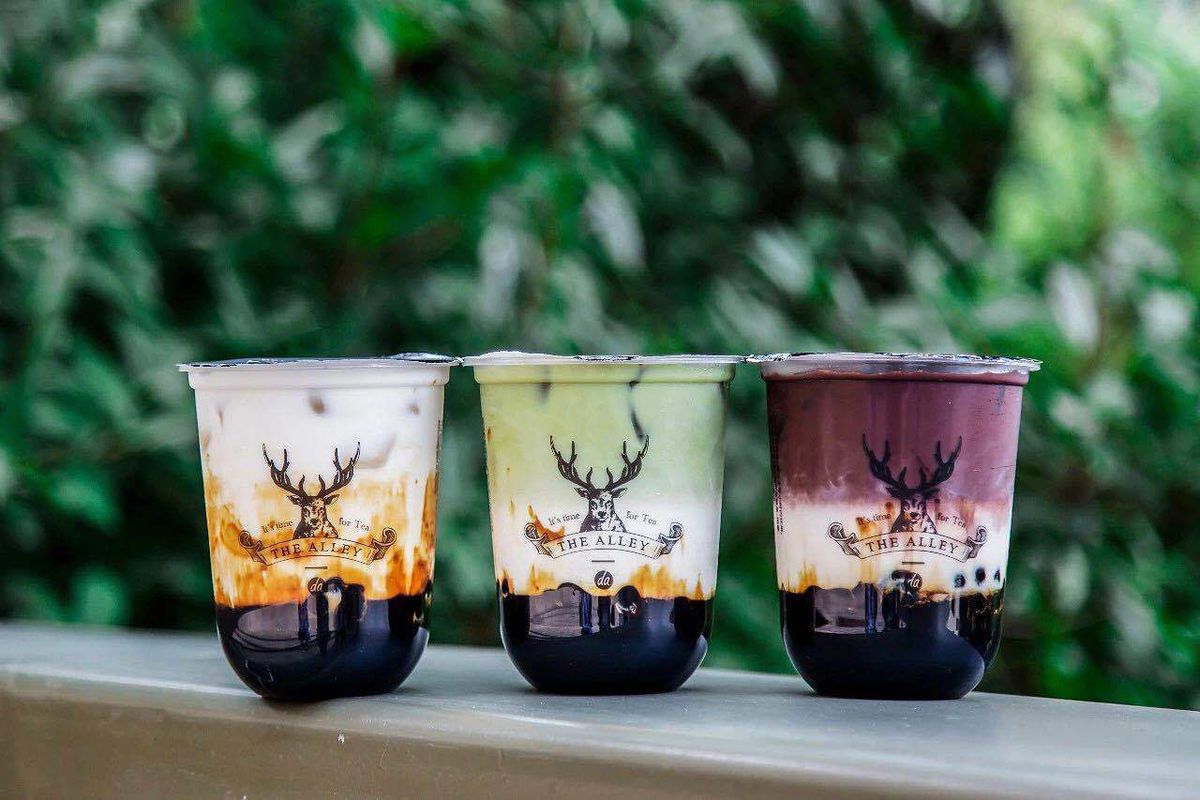 Credit: The Alley
The Alley is quite special because they use their own products to make their teas. They make their own sugar cane syrup to ensure a delicate sweetness that's never overpowering. They also make Deerioca (tapioca) from scratch: making, kneading and rolling the dough which creates a wonderful taste and texture. When you visit, be sure to watch how they prepare their tapioca. Their menu is filled with many different options: hot or cold, brewed or milk tea, or choose a tea from The Alley Specialty. I definitely want to try the OREO Devil Slush.
7. Chaï Tea Lounge – 3506 ave. du Parc

Chaï Tea Lounge offers a variety of different tea options (the most I think I've seen) to choose from. This is the perfect place to study and enjoy some delicious bubble tea. Their drink menu has bubble tea (with juice, coffee, matcha or milk), lattés or fraps using tea, smoothies, coffees and different hot chocolates. Everyone is sure to find something they love on their menu. The next time I go, I will be trying the Dirty Chaï bubble tea, it sounds so good!