CAPREIT has 5 new luxury properties available for rent, spread throughout different neighbourhoods in Montreal and surrounding areas: Côte Saint-Luc, Griffintown, Ville-Marie, Laval and Saint-Hyacinthe. Here you can experience a condo-like lifestyle minus the commitment of purchasing a condo and in particular, the worries of increasing mortgage rates. As a summer bonus, if you decide to sign a lease, you can move in today and only start paying in September!
With that being said, these new apartment buildings are designed with the community in mind. Now that summer is here, you can have a place to host friends and enjoy the summer weather, whether it be by the pool, on the rooftop terrace having a barbecue, in one of the gorgeously designed lounges or even in the surrounding neighbourhood. This lifestyle could be yours at one of these buildings! Check them out:

1. MAJESTIC (Côte Saint-Luc)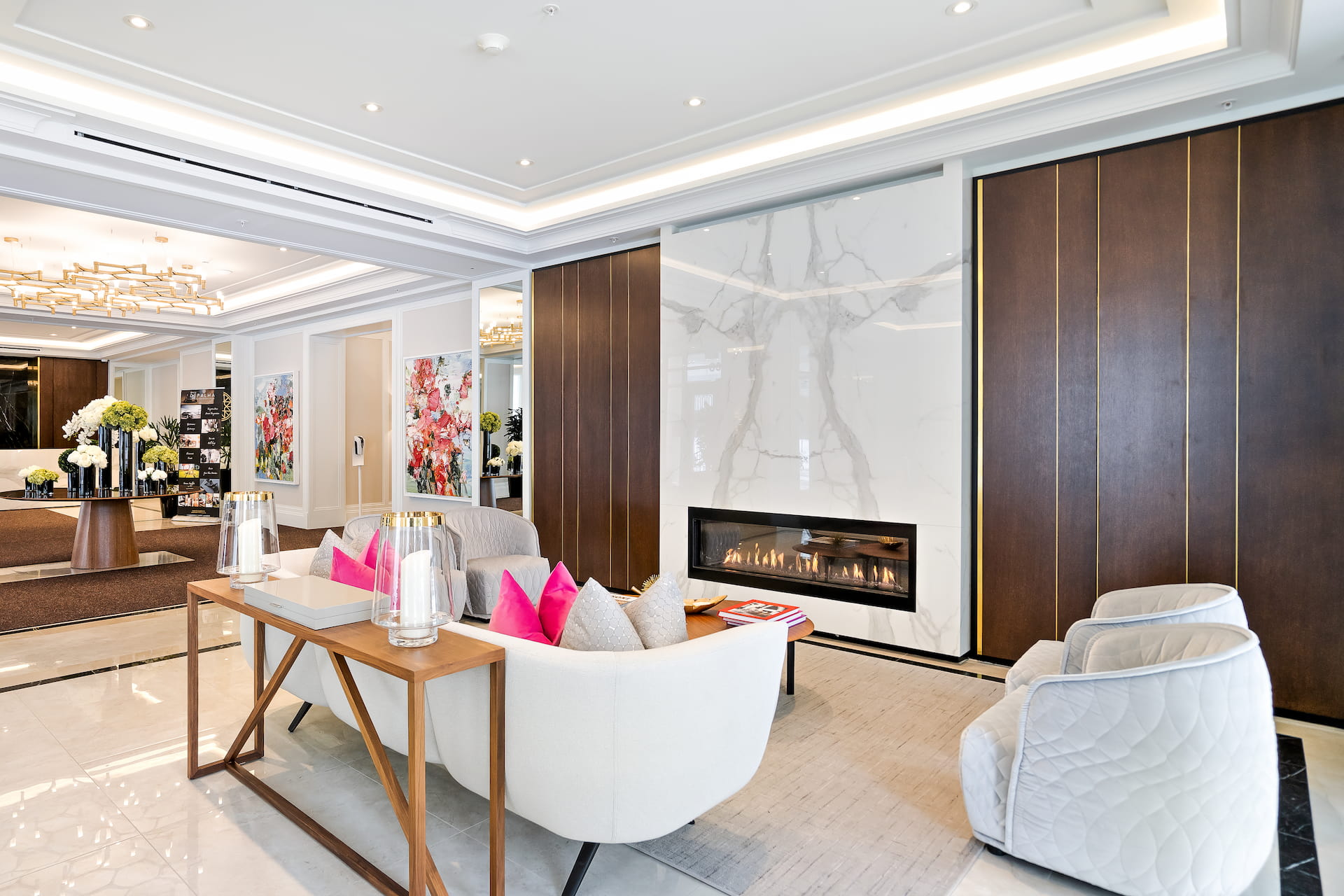 Credits: capreit.ca
Located in Côte Saint-Luc, Majestic is the definition of luxury. High-end features and opulent designs make this haven truly desirable. Imagine being welcomed by luxury finishes every time you come home to your apartment suite, with imported stone countertops, premium stainless-steel appliances, and top-of-the-line fixtures throughout. These finishes are complemented by organic details found on the hardwood floors and doors. To top it off, you'll find large windows and recessed light fixtures, sure to brighten your day. If you need to get some fresh air and have some alone time, penthouse apartments have private rooftop terraces, ground floor apartments have private gardens, and all other units have private balconies.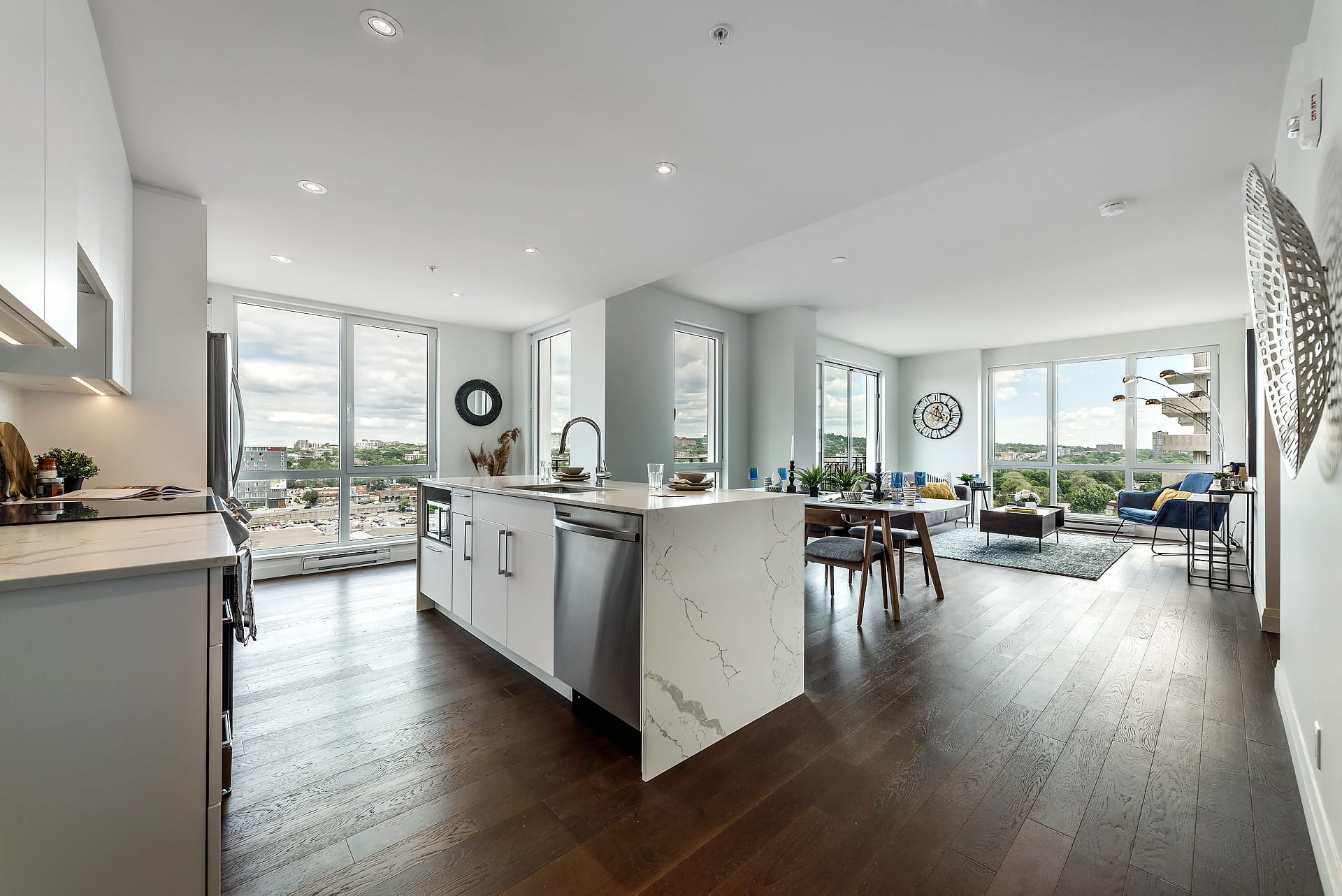 Credit: griffinplus.com
You'll find 1, 1.5 or 2 bathrooms amongst the suite types and primary bedrooms have their own ensuite bathrooms and large closets, including some with walk-ins. Each apartment also has an in-suite laundry room equipped with a full-size washer and dryer.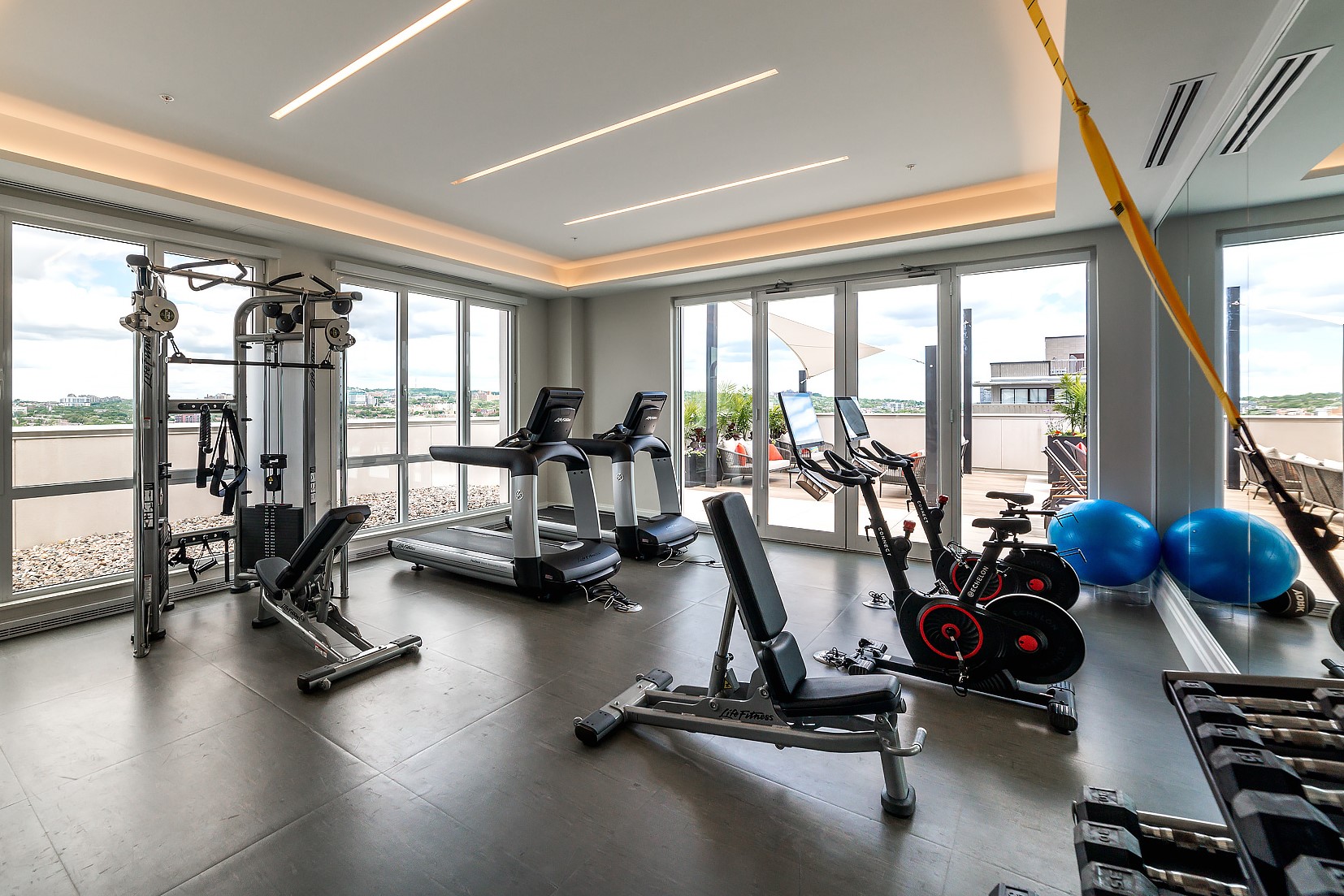 Credit: griffinplus.com
What about the amenities? At the rooftop fitness centre, you'll find a little bit of everything, including Echelon smart connect bikes. You can also invite your friends and enjoy the summer on the rooftop terrace, furnished with barbecues and fire tables or take advantage of the cozy ground floor lounge with a fireplace and an espresso machine.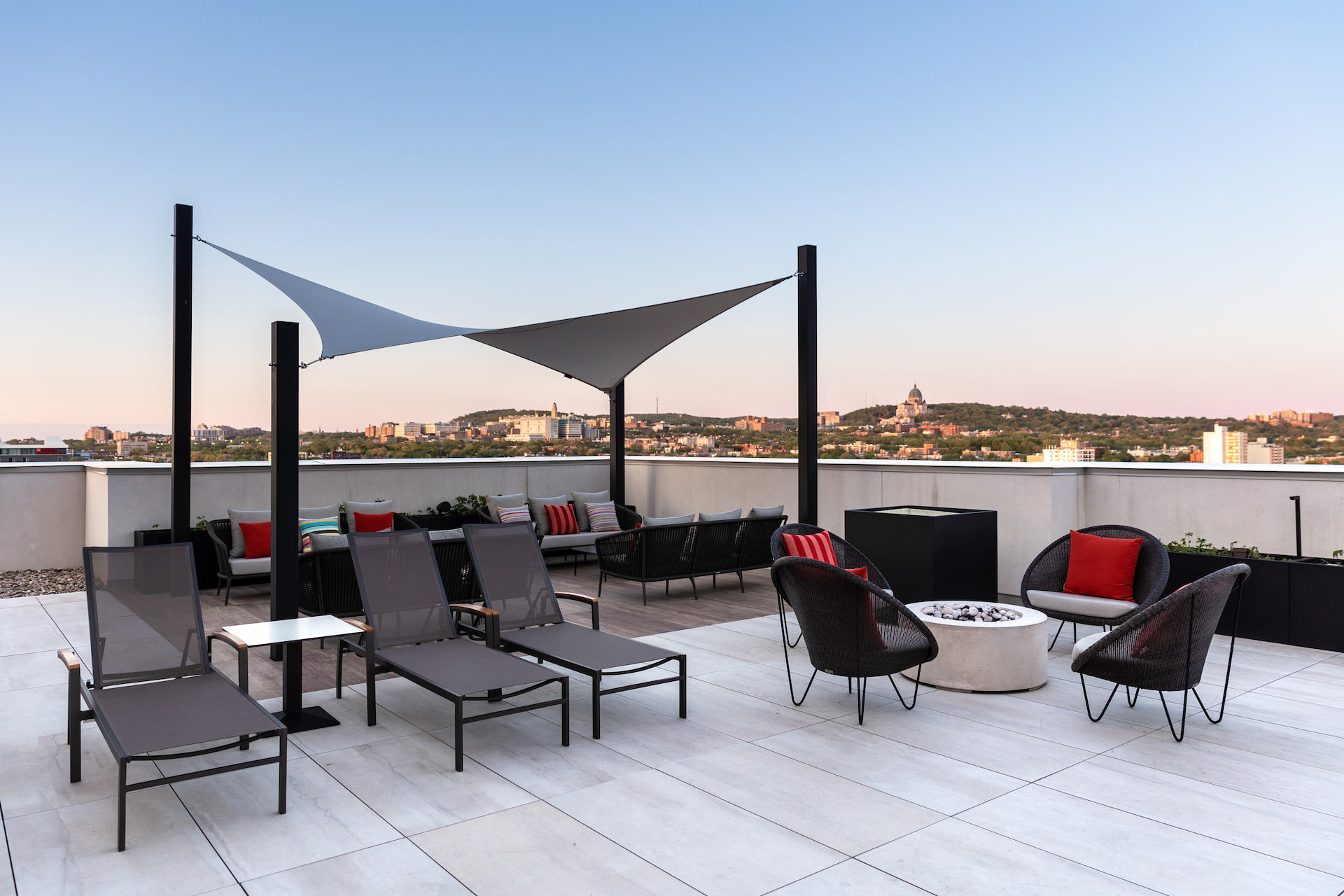 Credit: capreit.ca
There are private lockers, bicycle storage, on-site and street parking, and electric car charging stations available. You'll also have peace of mind knowing that you're living in a safe building as there is a modern security system and a friendly concierge to greet you.
To learn about how you can make this your home, please visit Majestic's website.
2. THE ONYX (Griffintown)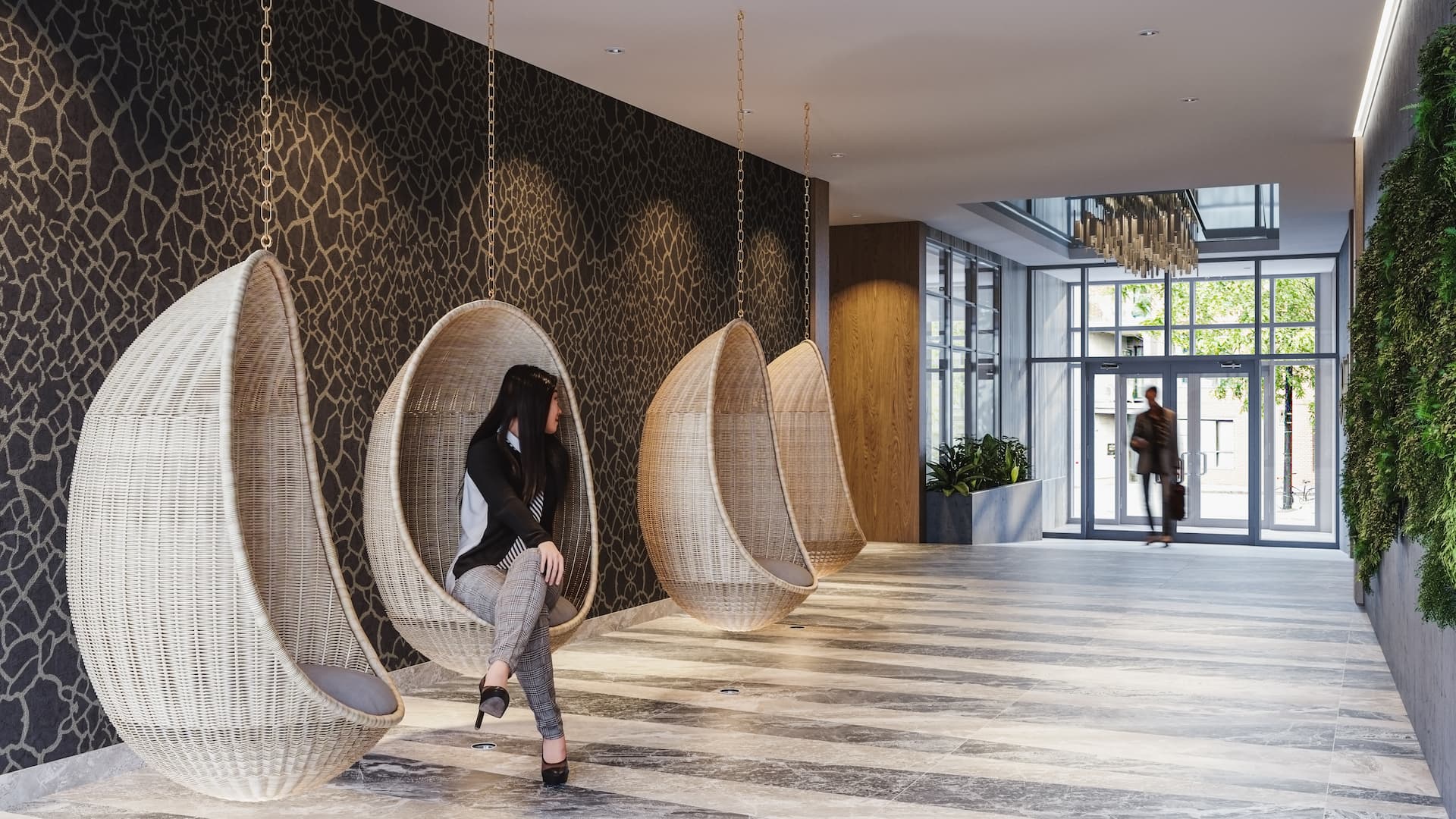 Credit: capreit.ca
The Onyx apartments are located in trendy Griffintown, a neighbourhood teeming with Montreal joie de vivre culture. As a resident, you can visit a local art gallery, take a stroll along Lachine Canal, or spend an evening out at one of the nearby hip restaurants, all within walking distance. You can also enjoy the summer weather with friends out on the rooftop terrace equipped with barbecues and a running track or get some relaxing alone time on your private balcony. Sounds like the perfect lifestyle!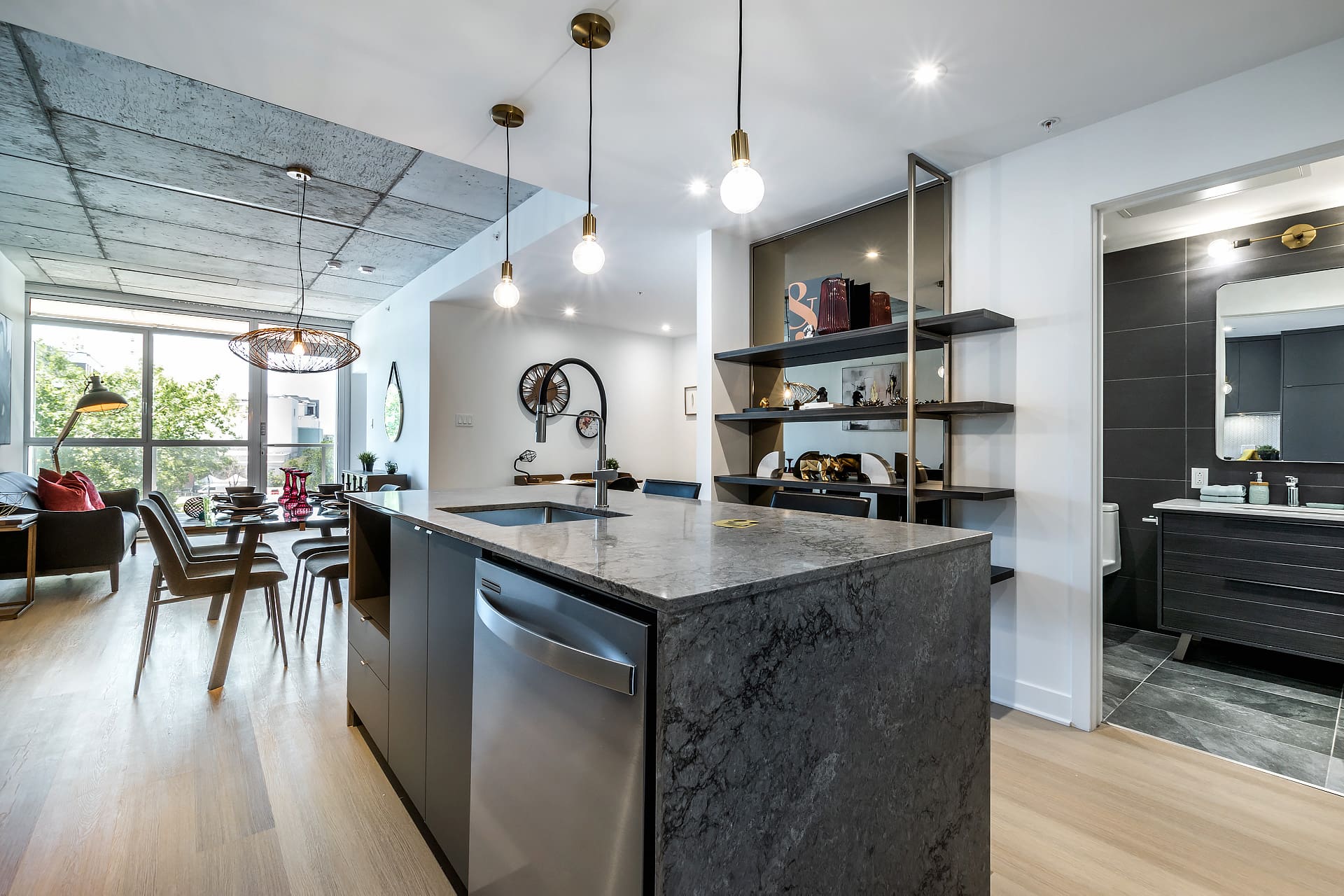 Credit: griffinplus.com
What's more, you'll find beautiful finishes all around. Suites feature quartz countertops and premium stainless-steel appliances, in-suite laundry rooms, 9- to 10-feet ceilings and floor-to-ceiling windows.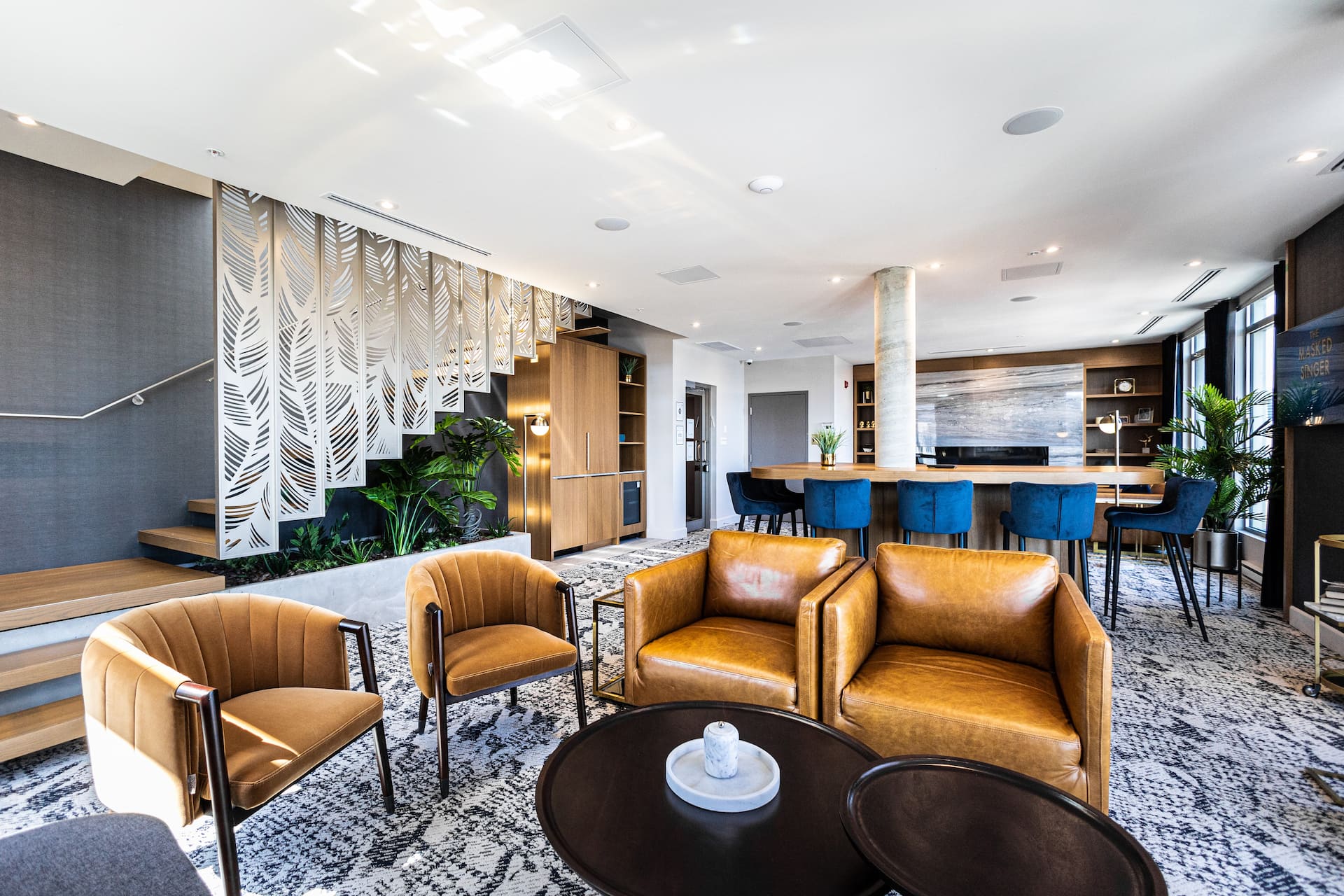 Credit: capreit.ca
This building also offers a luxury lounge on the 8th floor with a work area, kitchenette and fireplace. It's really a peaceful place to be. If you are more of a person who's into fitness, there's a modern fitness room with Echelon smart connect bikes and a fitness mirror on the first floor as well as a running track that covers the entire rooftop. Here, you can enjoy beautiful views of Griffintown and downtown Montreal. Imagine watching the sunset here. This could be you!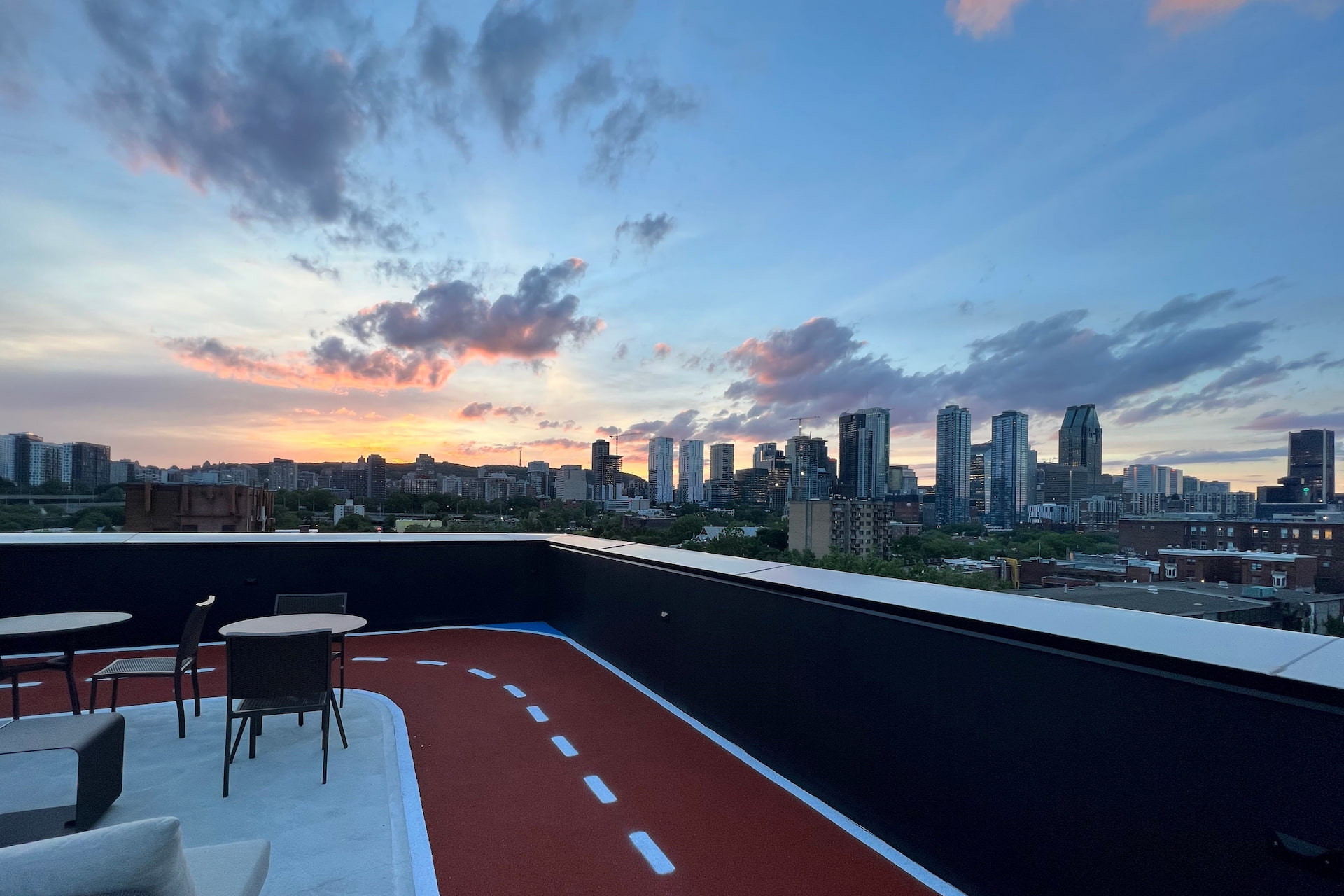 Credit: capreit.ca
It also seems like they are all for being environmentally friendly because they have a street-accessible bike storage room as well as electric car charging stations available.
For more information, check out Onyx's website.
3. THE OPAL (Ville-Marie)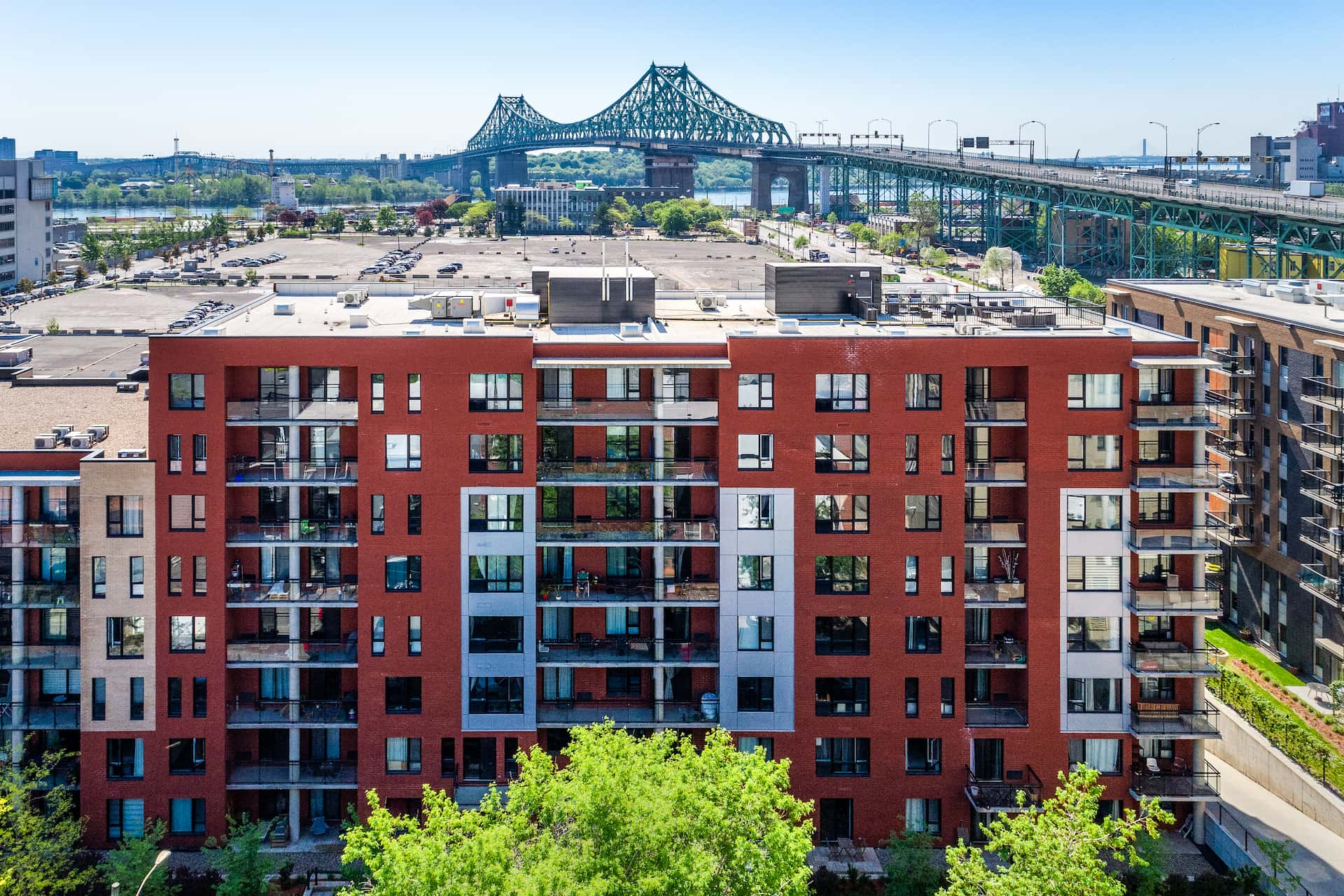 Credit: archimed-studio.com
The Opal is located right by the Village – a vibrant area full of restaurants, bars and trendy boutiques. This neighbourhood also has some of the best festivals and nightlife in town.
Apartments here feature large, sunny rooms and private balconies, some with views of Jacques-Cartier Bridge and Downtown Montreal. Warm hardwood flooring, ceramic finishes and quartz countertops make up these units' modern style. The kitchens are highly functional with 6 high-end stainless-steel appliances included.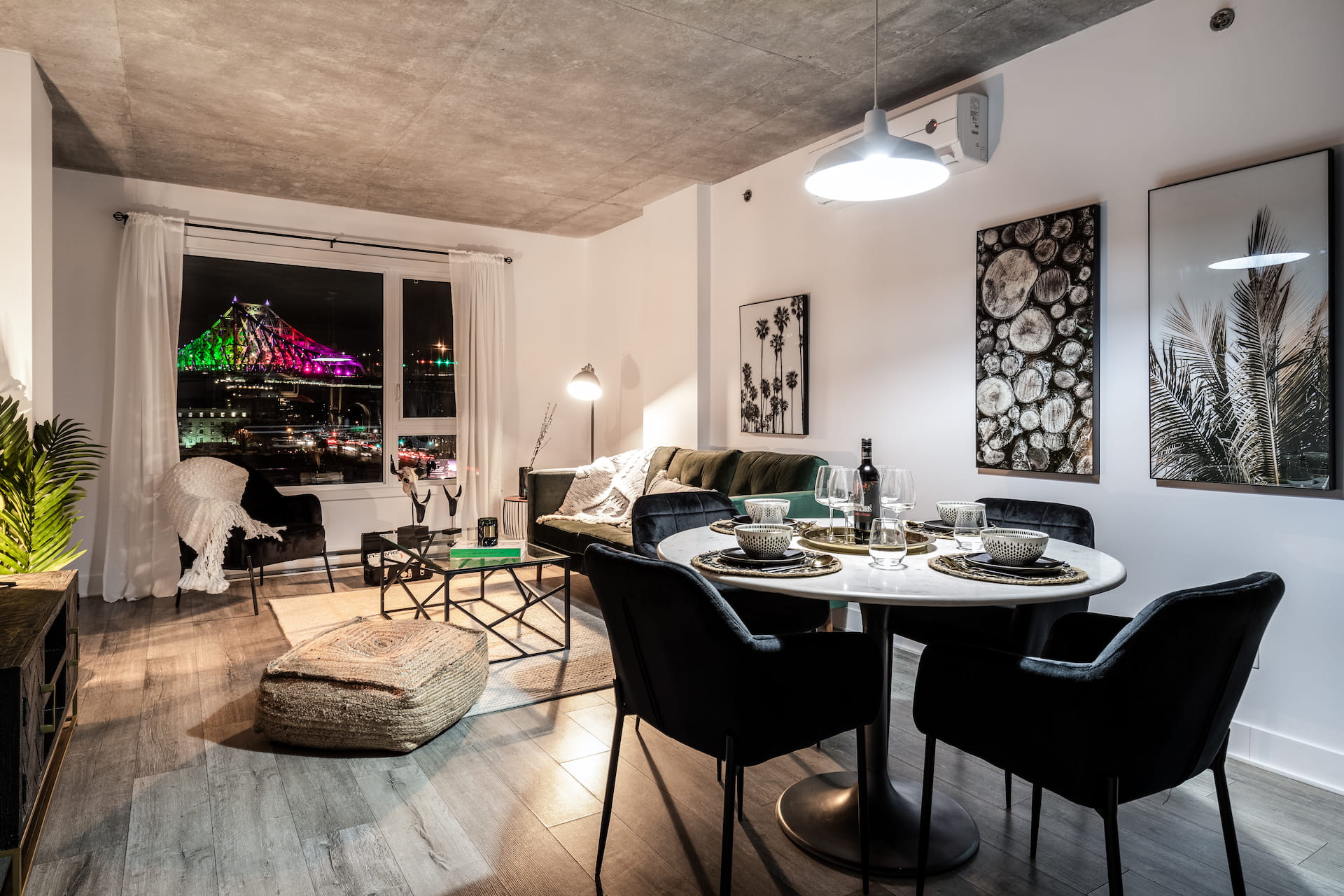 Credit: archimed-studio.com
With summer starting, you can enjoy the sun with your family and friends by the pool, jacuzzi, and on the rooftop terrace with gorgeous panoramic views of the city. The building is also close to the St. Lawrence River and St. Helen's Island - perfect for a walk or a bike ride along the water.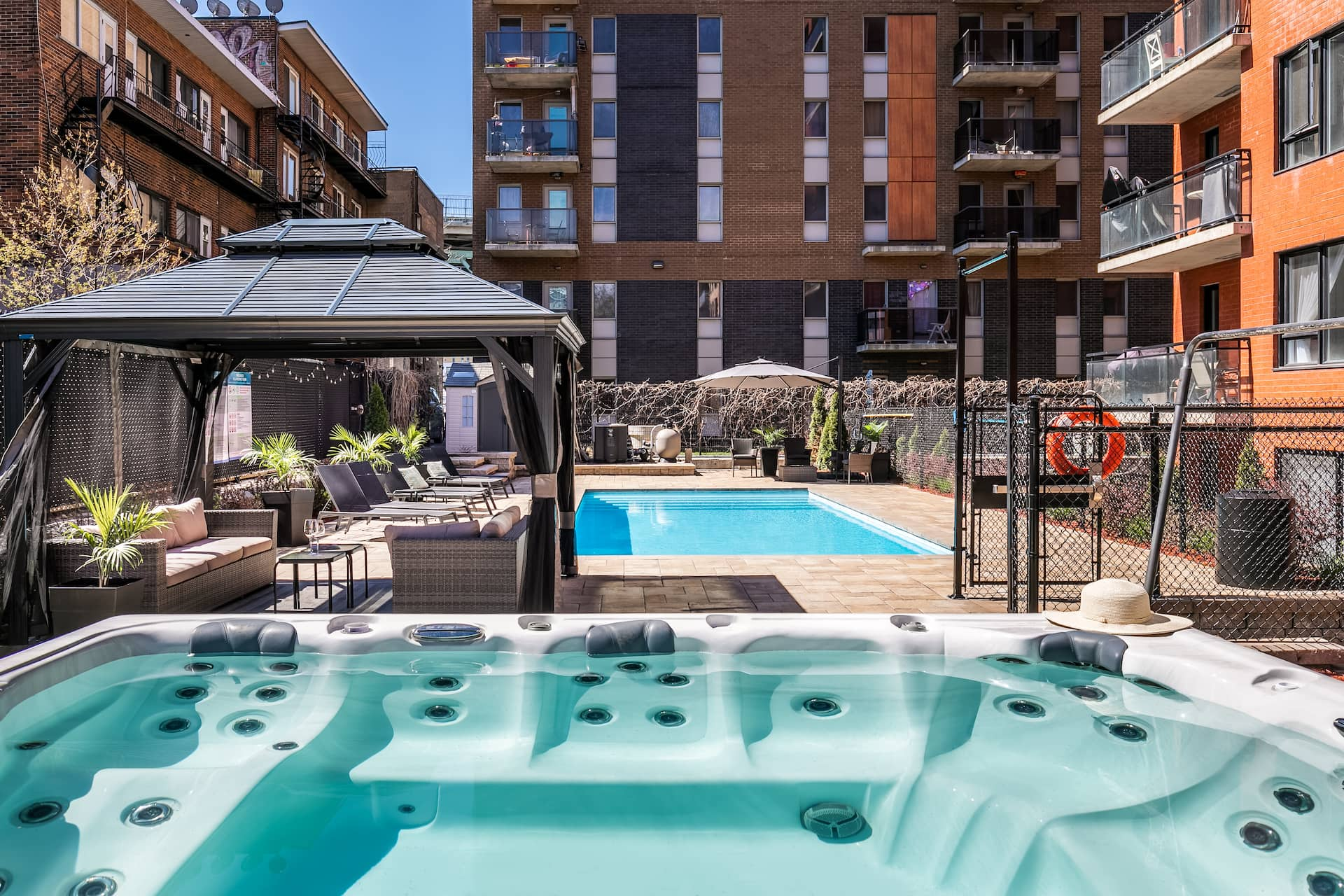 Credit: archimed-studio.com
If you think this is the place for you, please visit The Opal's website.
4. THE TOPAZ (Laval)
Credit: capreit.ca
You can find The Topaz in Laval, on the north shore of Montreal. It is conveniently located within walking distance of Centre Laval, Quartier Laval, Montmorency and de la Concorde metro stations (Orange Line) and de la Concorde train station. If you own a car, you're just a short drive away from Centropolis, Carrefour Laval, Costco as well as Autoroute 15.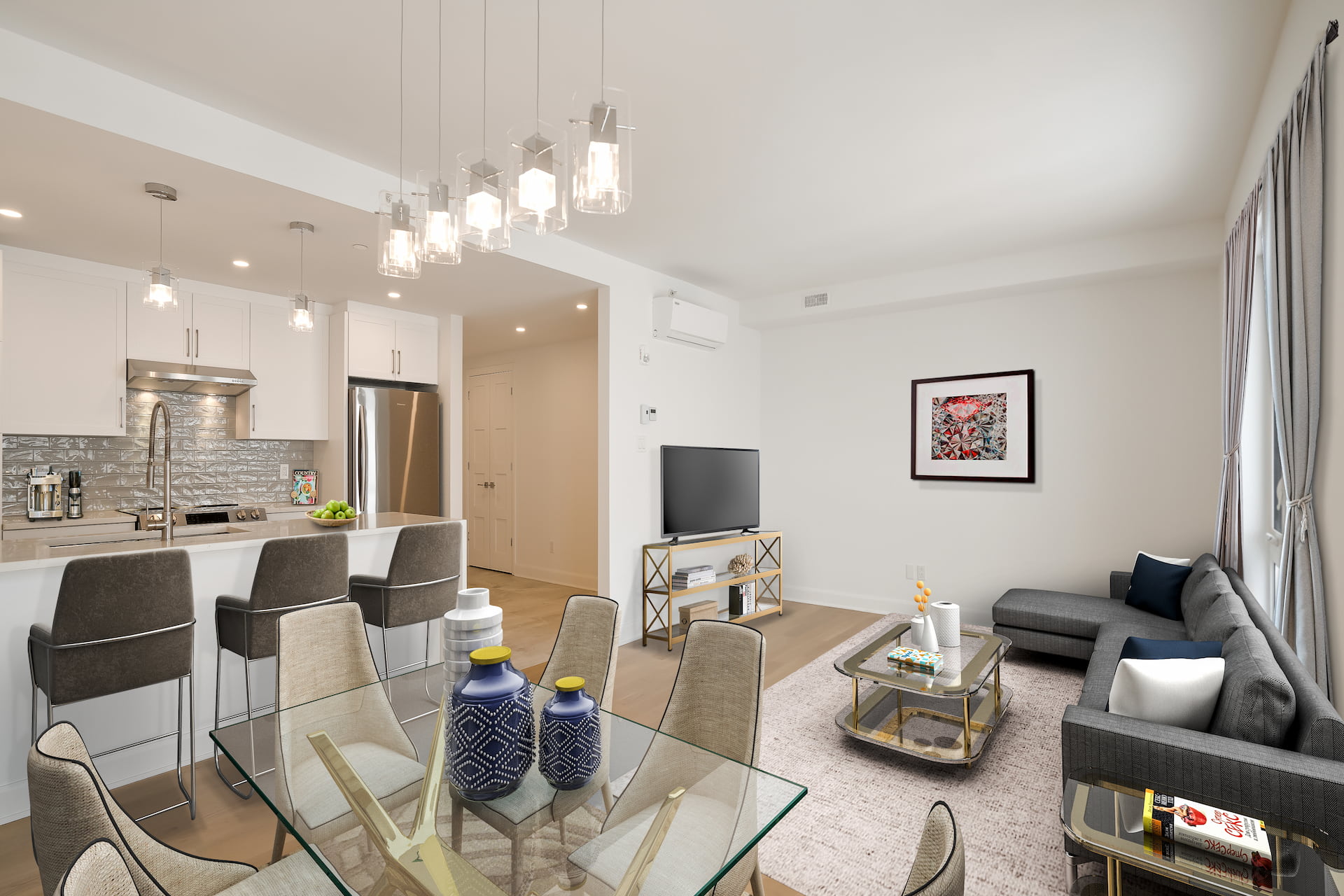 Credit: capreit.ca
The suites are bright and airy, with spacious floor plans. Like CAPREIT's other luxury apartments, you can expect to have elegant finishes, like quartz countertops, hardwood floors, ceramic tiles in the kitchen and bathrooms, as well as classy light fixtures, all coming together to make you feel at home.
You will also find 6 premium appliances including an in-suite laundry room with a washer and dryer, wall-mounted air-conditioning for those sweltering summer months, and spacious private balconies for fresh air.
For those who use wheelchairs, CAPREIT has taken into consideration accessibility as well. There are multiple units at The Topaz that make life a bit easier.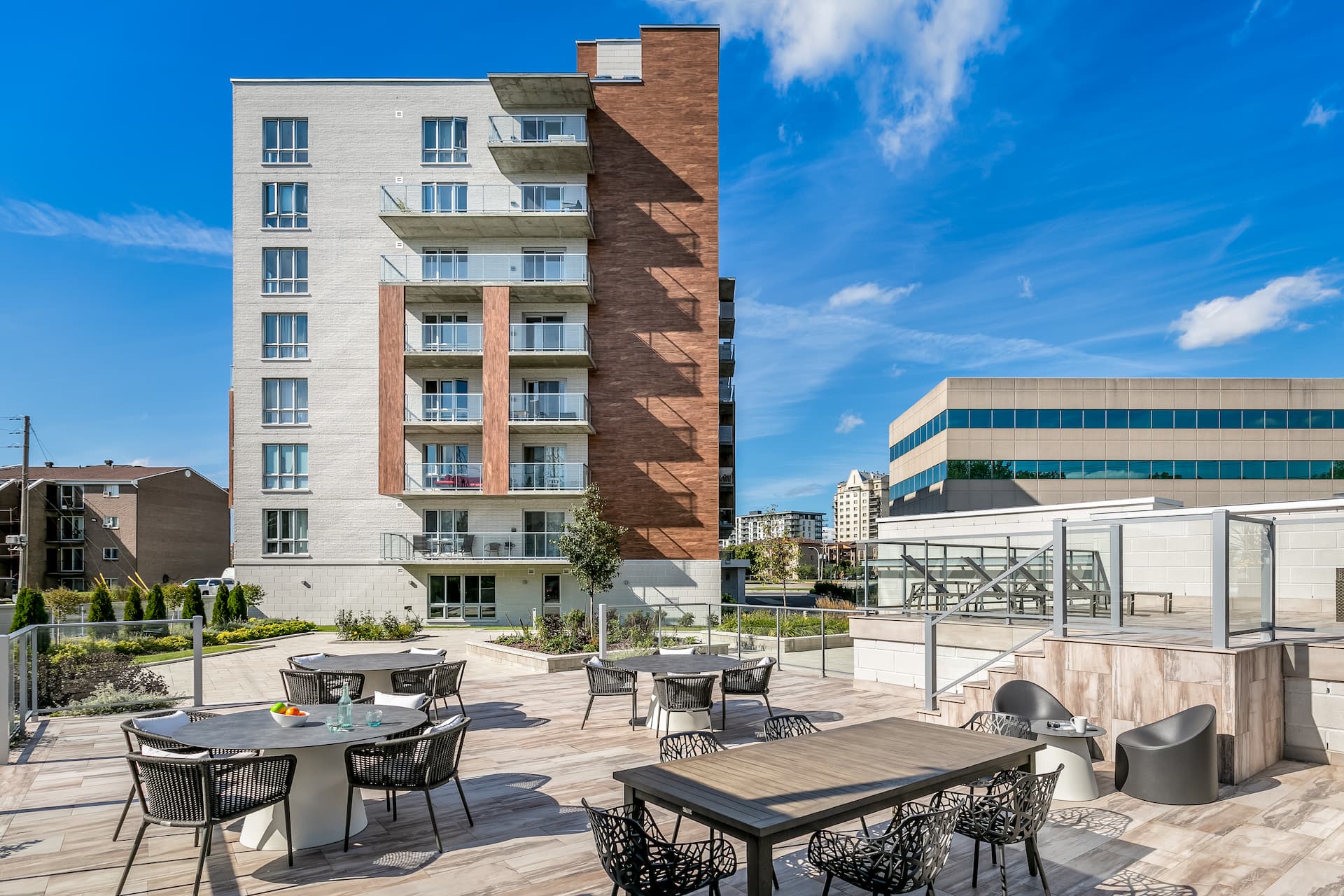 Credit: archimed-studio.com
The building is newly built, boasting a beautifully landscaped terrace with barbeques, a fully equipped modern gym, a state-of-the-art security system, indoor and outdoor parking, as well as electric car charging stations.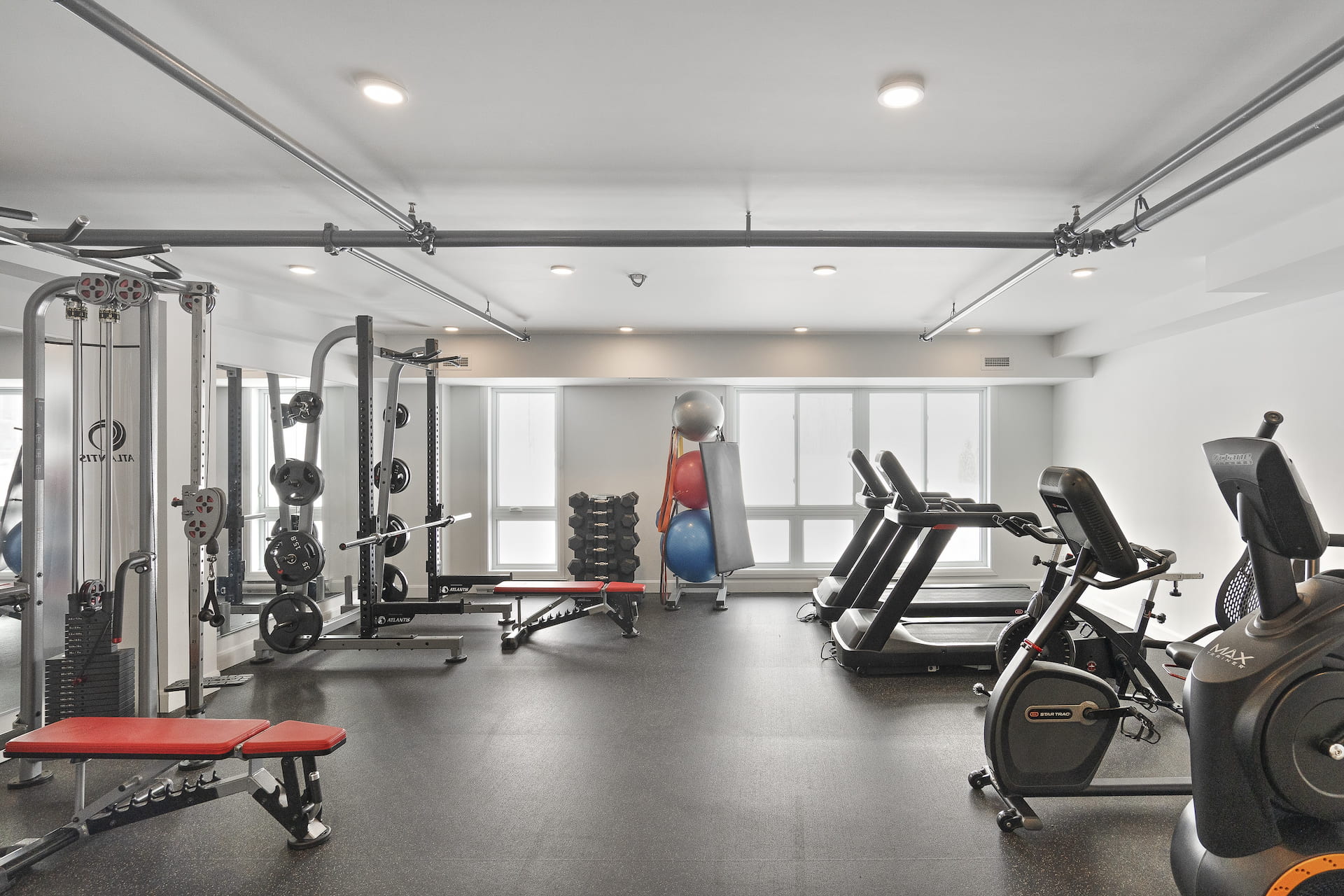 Credit: capreit.ca
For more information, including pricing and availability, please visit The Topaz's website.
5. THE JADE (Saint-Hyacinthe)
Moving out of Montreal a bit, The Jade apartments are located in downtown Saint-Hyacinthe – a unique spot where the urban surroundings meet natural beauty. You can explore hundreds of kilometres of marked bike trails or take a pleasant stroll along the Gérard-Côté waterfront promenade.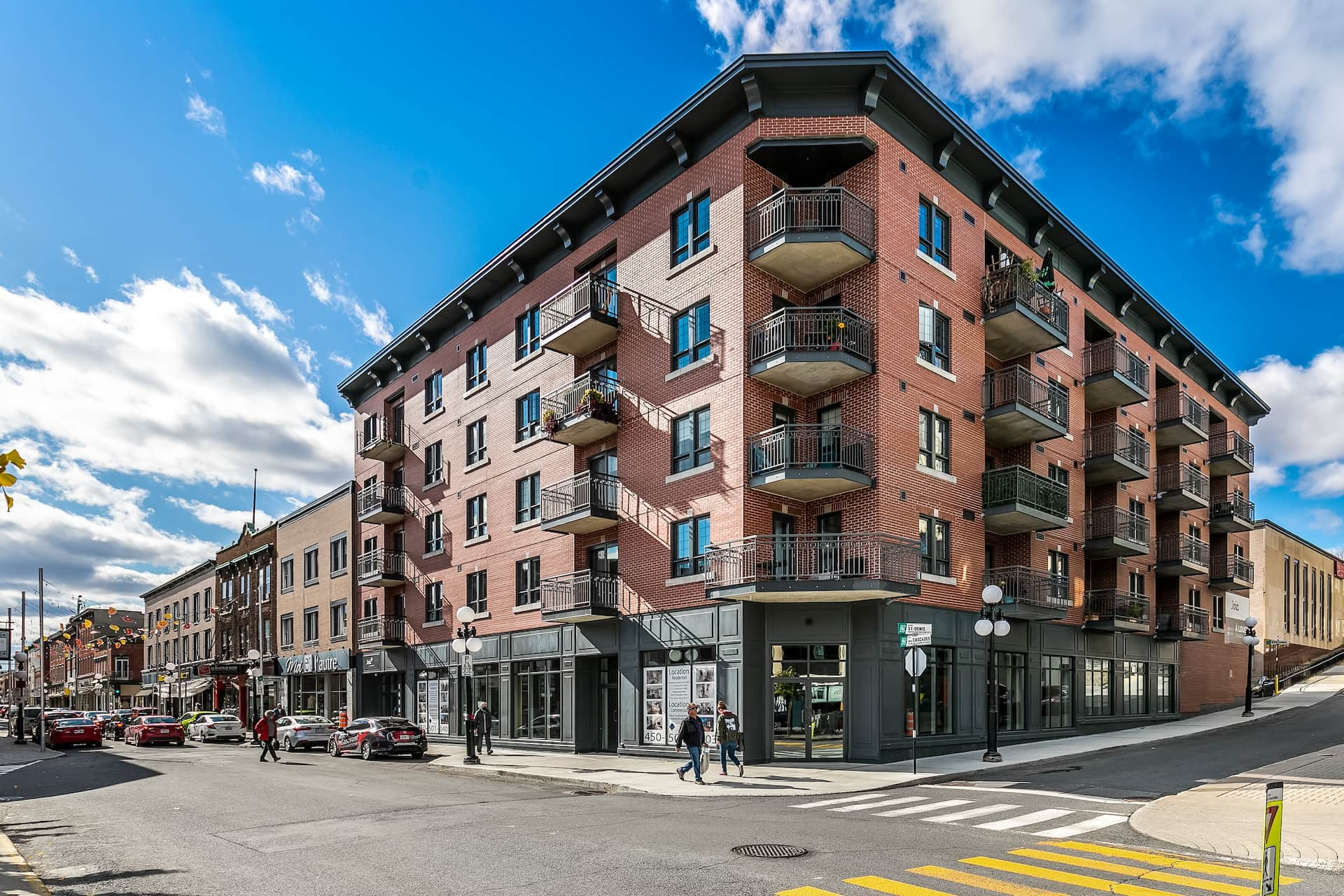 Credit: archimed-studio.com
These luxury suites are spacious and flooded with natural light thanks to their large windows. The apartments have durable, high-quality hardwood and ceramic flooring. The kitchen area boasts exquisite quartz countertops and units are equipped with 6 premium stainless-steel appliances.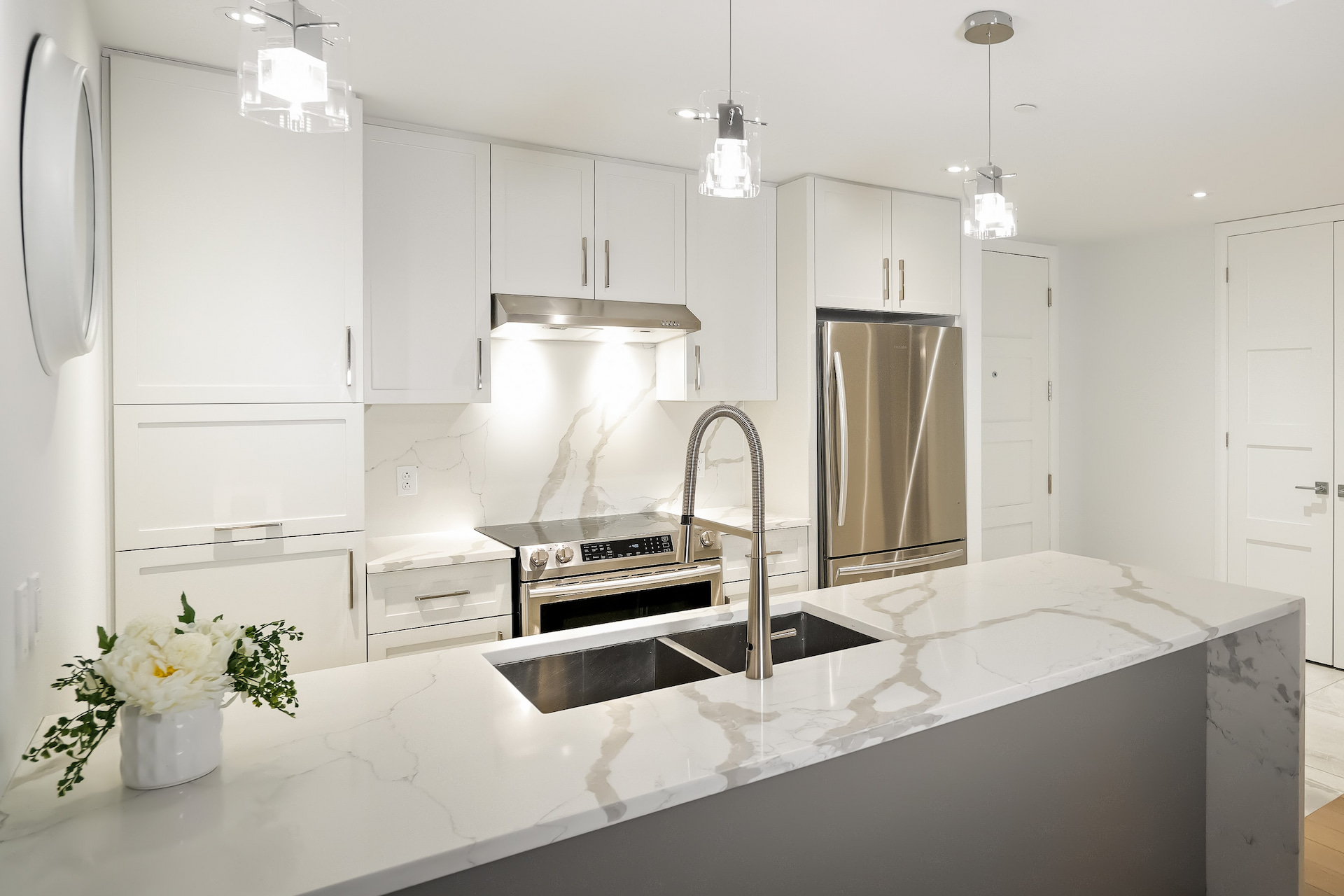 Credit: capreit.ca
This building offers private rooftop terraces for 5th-floor residences. There is also a security system, private storage units and indoor parking in the building.
For pricing and availability, please visit The Jade's website.