Moving day is just around the corner, and Polysleep, a Montreal based sleep company wants to give you a break! How does saving $1000 on your next move sound ? We all know (and we've all been there) that moving from one place to another can be a hassle, but Polysleep is here to make it easier for you by offering a great contest!
Polysleep produces premium sleep products and everything is locally manufactured in Montreal. Their products are antimicrobial and they offer the only mattresses that are shipped in a box with an integrated foam support frame for extra support. If you're not too sure if their products are right for you, they come with a 100-night trial and 10-year warranty! But we're pretty certain you'll want to keep your super comfy mattress at the end of your trial..
On top of being environmentally friendly with the materials they use for their products, Polysleep uses an awesome delivery method to transport your products: They are able to deliver 6 mattresses in the same space as 1 traditional mattress, and they also use bike couriers to deliver to certain areas in Montreal. By using those eco-friendly methods, Polysleep reduces its shipping cost and thus can provide better quality products to their customers, all while lowering their carbon footprint! On top of that, their mattresses are incredibly comfy, and so convenient they can even be moved and unpacked by a single person!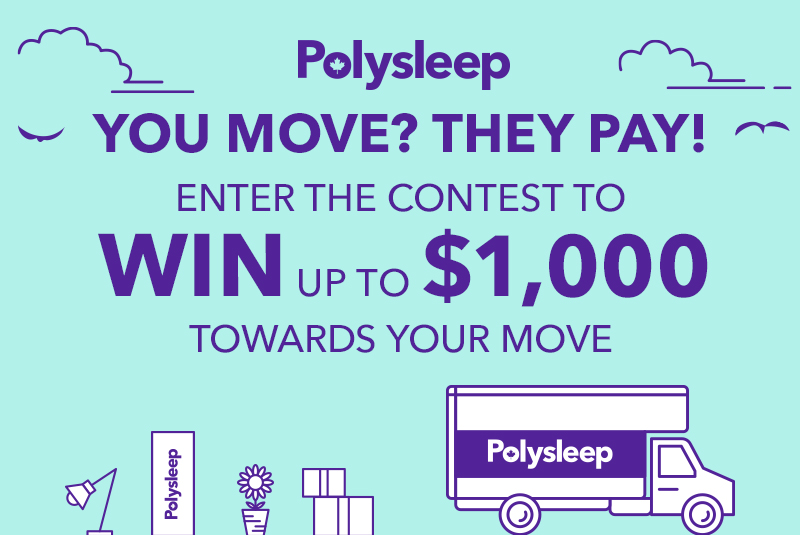 So what is this awesome contest Polysleep put up together for you? Very simple: All you have to do to participate is click here, answer a few simple questions and fill out some basic information (name, email address), et voilà, you just entered for a chance to win $1000 towards your next move! No purchase is required and it is 100% FREE to enter!
Be sure you follow all the rules before participating: The contest is open to Quebec residents only. Polysleep will reimburse up to $1000 of your moving costs, but you need to keep all your receipts because proof will be required. You have until June 30that midnight to enter!