Vacation mode: on! When it comes to summer jobs, most of us want to break free from the corporate life. The typical "9 to 5" just doesn't seem to cut it for this generation.
Great news for those itching to get out of their classic business attire: Coors Light is hiring Canadians for the ultimate dream job. This summer, why not spend it relaxing and literally "chilling" all day? Better yet, why not get paid for it?
Quick, where do we sign up?! From Hammock Mechanics to Beach Testers - this is your chance to get paid to chill. Literally. Each "Paid to Chill" hire will get paid $1000 weekly to take part in 1 to 2 chill experiences (depending on the position).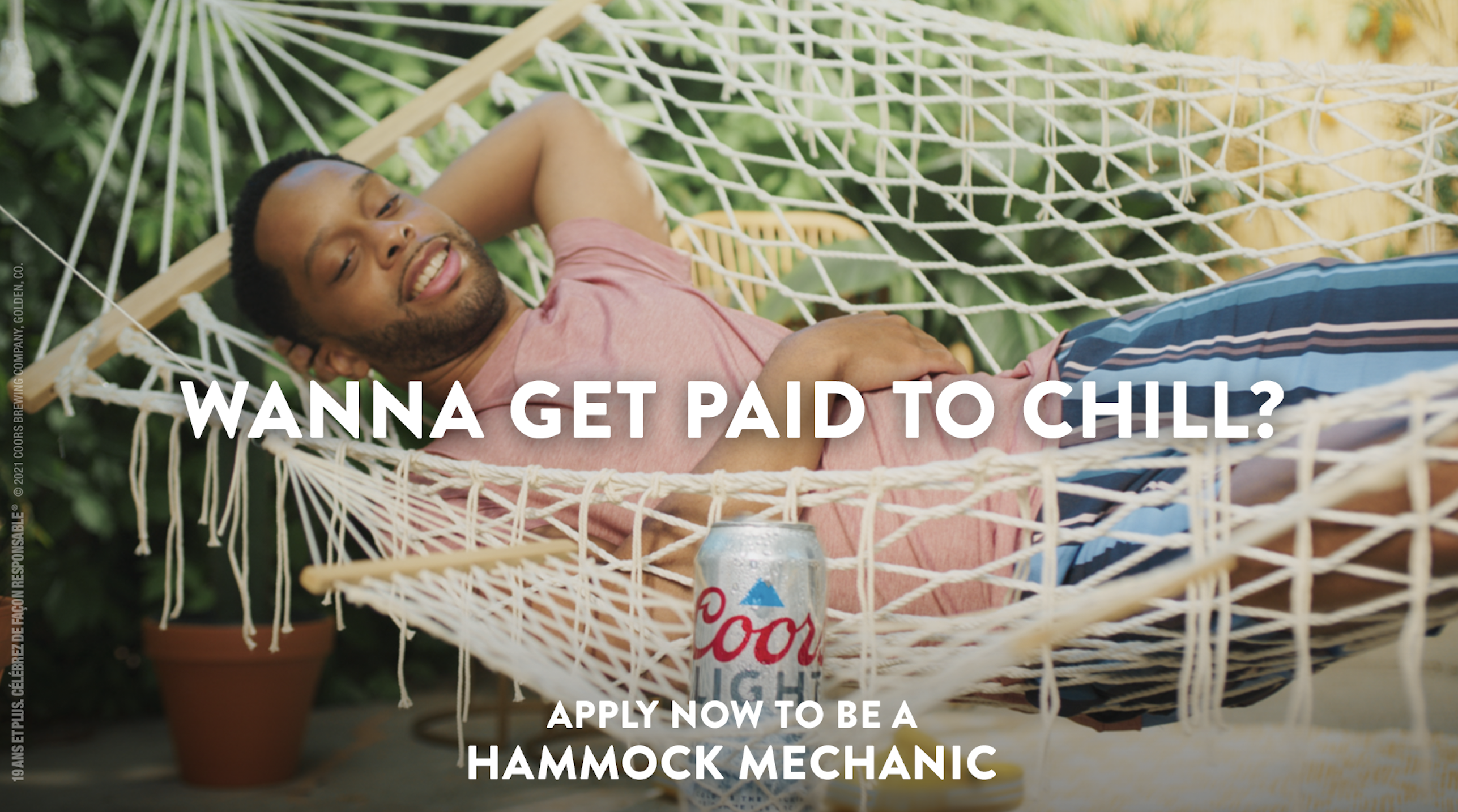 One thing's for sure: these are hired positions that you'll never want to quit! Let's sign up for a lifetime! (Or at least, before we decide to retire, right?). The positions in question are unique… and for anyone looking to kick back and relax, they are THE ideal job description. Take a look:
Patio Supervisors: Candidates will be encouraged to chill at a predetermined, Coors Light location (complete with a patio, of course).
Beach Testers: If you're given the role of "Beach Tester," then you're doing exactly that: testing out a beach and scouting out appropriate places to chill! Enjoy the waves! Within this role, you'll also be able to hang out with your friends and give out fun swag to beachgoers.
Hammock Mechanic: The Hammock Mechanic position involves setting up a hammock base of operations (at a predetermined park). Within this base, Hammock Mechanics are encouraged to chill with friends and reward passer-byers with miniature Coors Light hammocks to take home.
Corn Controller: Bring your appetite! The Corn Controller winners will get the chance to chill on a local bar with friends. During their work hours, they'll "supervise" an expert corn grilling team that will distribute delicious BBQ flame-seared corn to everyone.
S'more-Tender: Why do they call them s'mores? Because everyone always wants SOME MORE! Those bearing the "S'more-Tenders" title will receive their very own S'more-making kit, a backyard fire pit, and a cooler full of product. With this package, they'll be encouraged to invite their friends over to host a s'more-making experience… all courtesy of Coors Light!
Beer Bouncer: The Coors Light Beer Bouncer has one task and one task only. It's simple: the candidate is required to fill up a supplied cooler with Coors Light, invite friends over, and distribute beer. Bottoms up!
Are you ready for the summer job of a lifetime? Applicants must be of legal age and reside in Canada.
CLICK HERE for more info and let Coors Light know why you're the ideal "chill" candidate!