Tucked away behind a large Macdonald's on the East end of the blue line, Montreal's Saint-Michel Flea Market has been known to take visitors by surprise. Its unassuming exterior and lack of commercial publication make it somewhat of a mystery to many Montrealers. But those aware of its presence recognise it to be a veritable treasure trove – an Aladdin's Cave of the city's north-east.
To visit this market is to defy the gloom of winter. Boasting a vibrant array of antiques chaotically spread over two floors of an old warehouse, Saint-Michel offers shoppers a huge range of glittering goodies both mundane and beautiful, dirt cheap and fancy, practical and useless. From old glass jars and vintage sneakers to gorgeous hand-sewn lamps and wood-carved mirrors – with some limited edition Barbie dolls thrown into the mix – its eclectic stalls offer all manner of trinkets.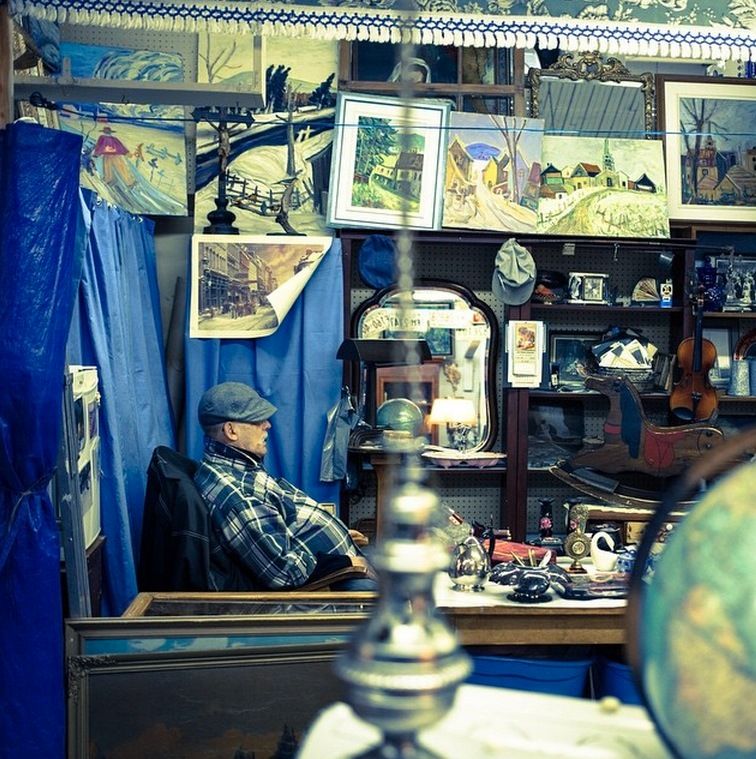 Credit Sardine et Maillet
You might rummage through wartime Spanish cigarette cases or leaf through old Tintin comics – but be careful not to smack your head on a 70s toy plane or trip over a stuffed racoon. This isn't your sparse pop-up Sunday Montreal street sale: it is literally full to the brim with amazing junk and fabulous treasure.
For me, walking through Saint-Michel's disorderly aisles, like visiting any good antiques market, is a time warp. The myriad items from their various locations and eras take you out of Montreal, 2016 and transport you somewhere a bit more fantastical. So many stories these objects and their sellers have to tell; so many possible flights of fancy in toy planes!
For all the whimsy and amusement that the market offers, there are also some good bargains to be found here. Furniture, sound and camera equipment, and good quality clothing are in plentiful supply.
Credit: Philippe Boivin
Whether you are a hardcore cassette collector or a jewellery lover; whether you're looking to furnish your house, or just get lost down a temporally flexible rabbit hole of curious objects, Marché Saint-Michel will do the trick!
Bring cash and be ready to haggle. The ceiling is covered, so treasure hunting is winter-proof. 3250 Boulevard Cremazie E; Metro Saint-Michel. Open Friday to Sunday, 9am to 5pm.