Situated along the lakeshore area of the West Island, the historic village of Pointe Claire boasts nature, a close proximity to the beauty of Lac St. Louis and an eclectic buying experience. If you like unique shops you'll find them here. You'll also find pleasure in exploring heritage buildings that date back to the turn of the century, nestled among tree-lined streets. Here are four reasons that a visit to Pointe Claire village is worth it:
A one of a kind boutique, this store stocks items from countries and cultures around the world. Artistic forms like stained glass, jewelry, handmade scarves, and much more can be found here. Most pieces are one-of-a-kind and every purchase from this boutique helps rural women in other countries gain employment.
Maison Fusion - Credit: Maison Fusion
If you are a year-round bicycle enthusiast, you may want to head to this fantastic shop to get your bike ready for the Montreal winter that is fast-approaching. The crew offers bicycle repair, inspection, and tune ups. They can also outfit you with any gear you may need to stay safe on the road. Among their wares are clothing, locks, helmets, and nutrition products. The focus is on quality and value. The customer service is great, too.
Supporting the fair trade movement is easy to do when shopping at this exceptional store. Where else can you go for coffee from Tanzania, get a sculpture from Africa, and be assured that the artisans are earning fair value for their work in safe conditions? The mission of this market, full of handicrafts that reflect cultural traditions, is to raise awareness and help people around the world provide for their families.
Home Viewing
Within the area of Pointe-Claire village are some of the most beautiful houses of the Island. If you want to take a break from shopping and dining, then take a scenic drive by the water. You'll see some of the most impressive houses with unique architecture and lavish gardens.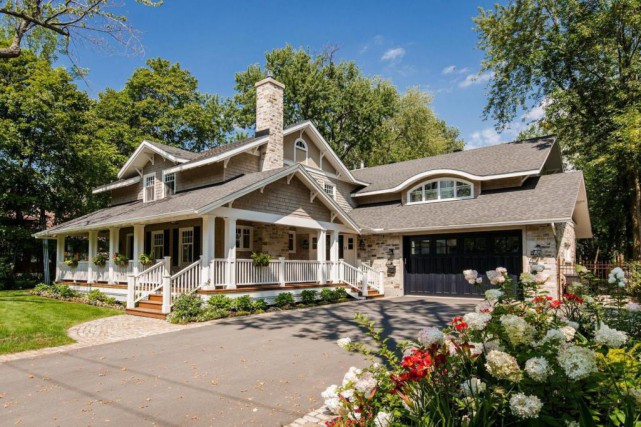 Home in Pointe-Claire - Credit: La Presse
Are you up for a hearty meal? Then paying Gigi Restaurant a visit is a must if you're in the area. From subs to the most succulent lasagna, Gigi Pizza is the ultimate in comfort food!