It's finally here! I'm talking about hockey season. Chances are, most of us weren't lucky enough to score seasons tickets. Although we may make it to one or two games way up in the nosebleeds, we're going to need a couple of go-to spots to watch the game (and indulge in a pint (or two, or three...) of beer with some like-minded fans). Here's a list of places to go to cheer on your team in a killer atmosphere:
1. Peel Pub

Peel Pub is always exploding with sports fans, so the vibe is perfect for game night. If you've ever been when the Habs are playing, you know that everyone's decked out in full Habs gear. On top of the standard list of pub food, the chef puts out daily specials boasting great prices. Though Peel Pub is huge, it's a sports fan's go-to, so arrive early!
Perfect for a date, dinner, or for watching the game with friends, the Ping Pong Club is a place you need to check out. With ping pong tables and other games, this is a great bar for entertainment of all kinds. Also, the Ping Pong Club hits "pub food" out of the park. A serious must-try.
Ping Pong Club - Crédit: Local Wanderer
Looking for a place that's a little more laid back? Then look no further than Bruno Sport Bar. Best known for their friendly staff and chill atmosphere, you'll want to check out many of this season's games at this low-key hangout.
4. McLean's Pub
McLean's is a Montreal favorite, having been open for over 25 years! Every Wednesday, you can sing-along at their karaoke night. Also, any day of the week from 4pm to 8pm, you can play pool free of charge. Yes! Bring a friend, eat some grub, and watch the game.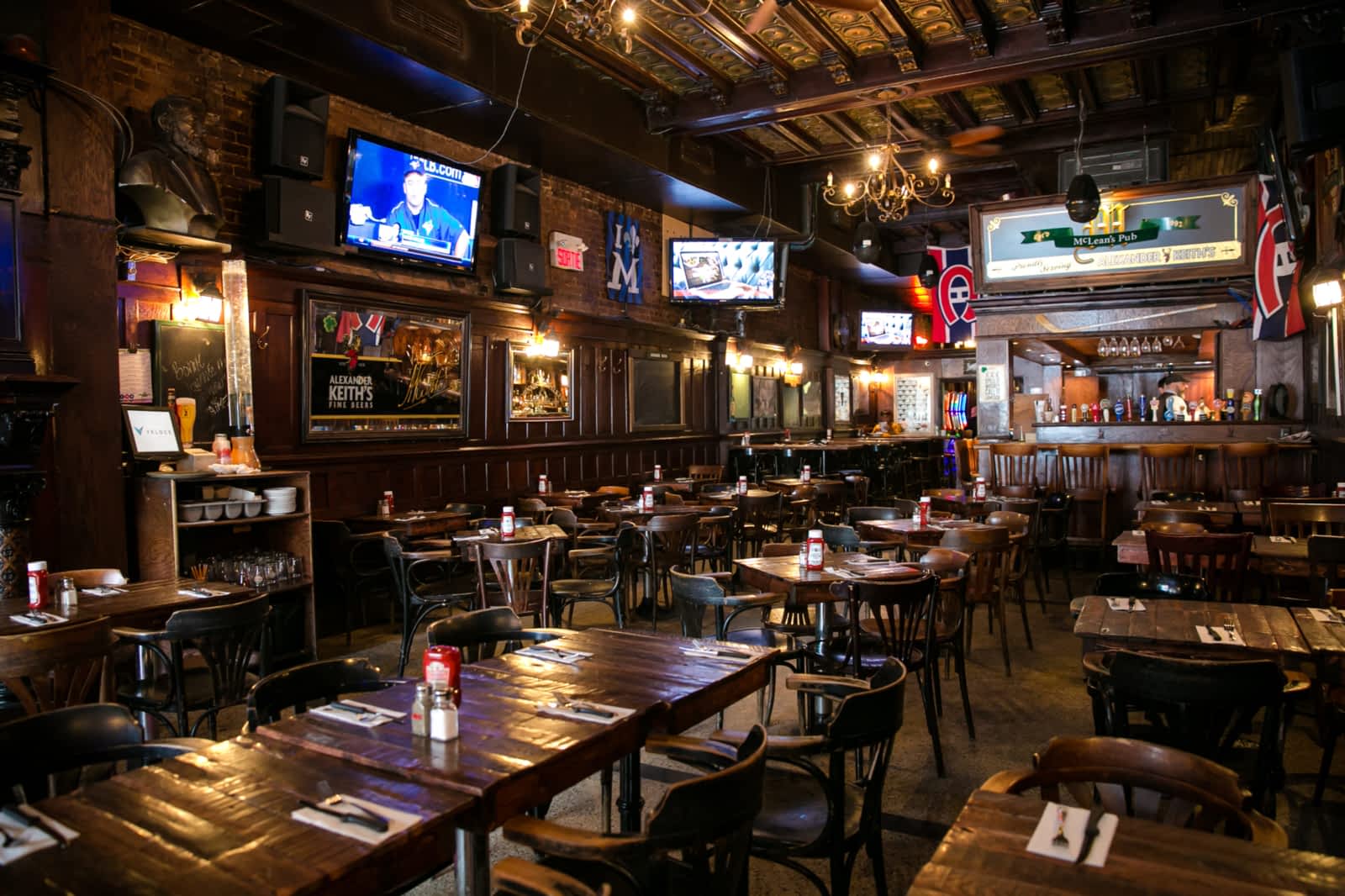 McLean's - Credit: YP
Chez Serge is the only bar in Quebec with a fully-functioning mechanical bull. This Montreal hot-spot is a definite must-visit! Saddle-up the bull and have something to talk about at the office for days! Not to mention, it's the perfect place to catch the next game with a group of your closest buddies.
Now get out there, grab a beer, and watch some hockey!